The uncertainty generated by Donald Trump's approach is now making all economic and financial scenarios challenging
The publication of a gloomy manufacturing index in the United States has plunged European equity indices back into turmoil. At the same time, the continuing trade war, this time between the United States and Europe, with the imposition of customs tariffs on consumer goods and certain industries (such as aeronautical equipment), is now leading investors to fear the worst on the economic front. Meetings with several business leaders confirm that they are now concerned "that recession is coming", due to the trade war. This economic sabotage by Donald Trump now seems so entrenched that the trade war seems to be the primary reason behind the timidity of economic decision-makers.
Furthermore, it is by no means certain that Donald Trump's repeated attacks on the multilateral global system are actually providing him with anything in the way of "electoral and political capital". Investors are still finding their way in this politico-commercial commotion. The widespread undervaluation of large swathes of European listed stocks renders the acquisition of equities inevitable, particularly in Europe, despite the fact that this asset class is, of course, much more volatile than bonds. And yet, in extreme circumstances, volatility regimes can change at a moment's notice. The massive inflows of investment into bonds could trigger an over-reaction. And so, an unusual scenario could occur. Usually, sovereign bonds act as a safe haven in times of economic crisis, but lately, this has not been the case.
The equity markets could also undergo a correction as rates increase. Stock market history shows that correlations between asset classes are unstable. When things go bad, everything seems to "re-correlate" in the wrong direction, as everyone wants to sell whatever financial assets they hold, all at the same time. The uncertainty generated by Donald Trump's approach is now making all economic and financial scenarios challenging. Some are clinging to the hope that the Chinese and the Americans will reach an interim or piecemeal agreement. Others are hoping that he will be impeached. Still others are hoping for fiscal stimulus in Europe. But at the end of the day, all of those are just hopes and opinions – they're not facts.
Igor de Maack, Fund manager and spokesperson at DNCA. This article was finalised in October 4th, 2019.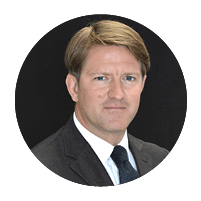 This promotional document is a simplified presentation and does not constitute a subscription offer or an investment recommendation. No part of this document may be reproduced, published or distributed without prior approval from the investment management company.
DNCA Investments is a trademark held by DNCA Finance