Donald Trump's 2020 campaign slogan ("Keep America Great") sets the tone for his potential next term of office.
Donald Trump's 2020 campaign slogan ("Keep America Great") sets the tone for his potential next term of office. The United States is overpowering everything and everyone. After China, Mexico has got into trouble for its border control policy and is now paying the price with increased customs duties.
At the same time, Europe is visibly shrinking, as the European equity markets have seen their 63rd week of outflows out of the last 65 weeks. By taking on the role of chief customs officer ("Tariff Man"), Donald Trump nevertheless risks causing turmoil in the global economy, which is the last thing it needs, as it is already approaching a rate of around 3%. On the US markets, the recent correction seen in FANGMAN (Facebook, Apple, Netflix, Google, Microsoft, Amazon, Nvidia) stocks in the wake of potential American anti-trust investigations is evocative of a traditional US rule. When a company or sector becomes too monopolistic, too conglomerate, too much of a threat to national security, the federal government steps in. This has already happened with the breakup of the Bell System in 1982, when the US Department of Justice won a case against the monopoly of the AT&T Corporation, which controlled the telephone service and the supply of telephonic equipment in the United States and Canada. This resulted in the dismantling of America's biggest company. Once again, History is about to teach us that there is no place for long-term domination, particularly in the realms of capitalism. This must now be uppermost in the minds of investors in relation to these technological stocks that are disproportionately represented in US share indices. It wouldn't be a bad thing to deflate this bubble a little.
The situation with interest rates (-0.20% for the German 10-year rate) is also worrying, as it indicates that investors are once more anticipating recession, or at least a sharp economic downturn. This presents, as ever, a struggle for value-oriented management, which consists of buying discounted or neglected securities. But, the more time goes by, the closer we get to an increase in rates, unless we're considering a Japanese-style scenario.
Philosopher and writer Jean-Jacques Rousseau crafted the maxim that patience is bitter, but its fruit is sweet. In times like this, that rings particularly true where some management styles and investment approaches are concerned.
Igor de Maack, Fund manager and spokesperson at DNCA. This article was finalised in June 7th, 2019.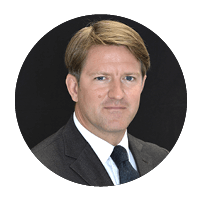 This promotional document is a simplified presentation and does not constitute a subscription offer or an investment recommendation. No part of this document may be reproduced, published or distributed without prior approval from the investment management company.
DNCA Investments is a trademark held by DNCA Finance